Spring 2022 Conference - Designed for Today's Supply Chain Management Leaders
Reunite with your restaurant supply chain peers on May 19-20 at the Swissotel, Chicago for the 10th anniversary of the National Restaurant Association Supply Chain Expert Exchange Spring Conference.
Join us in person to discuss what opportunities are ahead as we enter a whole new world for supply chain and our industry.
All operator attendees will receive free admission to the National Restaurant Association Restaurant Hotel-Motel Show, May 21-24.
Don't miss the ONLY event created by people that run restaurant supply chains.
We are excited to see you again!
PREVIEW THE CONFERENCE AGENDA HERE
KEYNOTE SPEAKER ANNOUNCED - Dr. JP Pawliw-Fry
New York Times Best Selling Author, Award-winning Entrepreneur, 
Top-rated Keynote Speaker.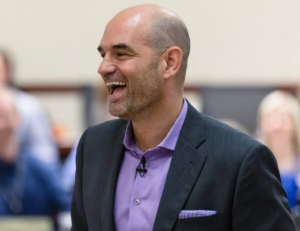 "The key to successful innovation and leadership today does not start with the strategies you implement or the technologies you use - it's how you and your team manage your thinking, your emotions, and your conversations under pressure."
Dr. JP Pawliw-Fry has over 20 years of experience helping individuals lead and innovate under pressure in the most extreme situations. Using science and research to help prepare people and organizations to meet their biggest challenges, he has worked with Olympic, NBA, and NFL teams, some of the world's biggest brands, and even the US Navy and the CIA.
We are excited to have him join us for the Supply Chain Expert Exchange Spring Conference 2022 as supply chain leaders in the restaurant industry tackle a whole new world of work.
Join us and walk away from this keynote feeling inspired and armed with practical tools to drive better business and personal outcomes.
Swissotel
323 E Wacker Dr
Chicago, IL
Room Rate: $274/night + tax
Room Block Deadline: Tuesday, April 29, 2022
ATTENDANCE POLICY
Operator registration is only open to restaurant operators and those who work in supply chain management for restaurant or hospitality companies. Product and service providers are only allowed to attend as sponsors. Please contact us if you are interested in becoming a sponsor in 2022.