Upcoming Events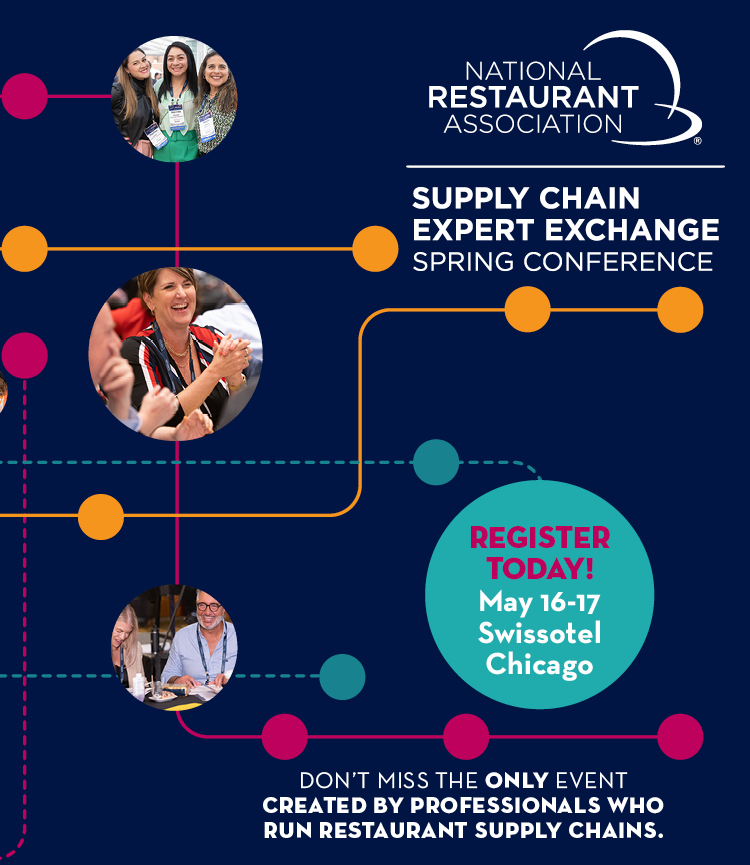 Spring 2024 Supply Chain Expert Exchange Conference in Chicago - Registration is Open!
Connect with your restaurant supply chain peers May 16 - 17, 2024 at the Swissotel Chicago for the Supply Chain Expert Exchange Spring Conference!
With an agenda developed by your industry peers, this is the only conference created by and for restaurant supply chain professionals.
The conference is only open to restaurant operators and those who work in supply chain management for restaurant or hospitality companies.
The first 100 restaurant operators who register for the conference and book their room using the link in their confirmation email will receive a complimentary standard hotel room the night of Thursday, May 16. 
All restaurant operator attendees will receive free admission to the National Restaurant Association Restaurant Show, May 18 - 21.
Thursday, May 16, 2024
11:00 a.m. -   Registration Desk Opens
2:00 to 4:30 p.m. -  Day 1 Conference Sessions
6:00 p.m. - Buses Begin Loading for Reception & Dinner at Offshore Rooftop
6:30 p.m.  - Reception & Dinner, Offshore Rooftop, 1000 E Grand Avenue, Chicago, IL
Friday, May 17, 2024
8:00 to 9:00 a.m. - Breakfast
9:00 a.m. to 4:30 p.m. - Day 2 Conference Sessions
Past Events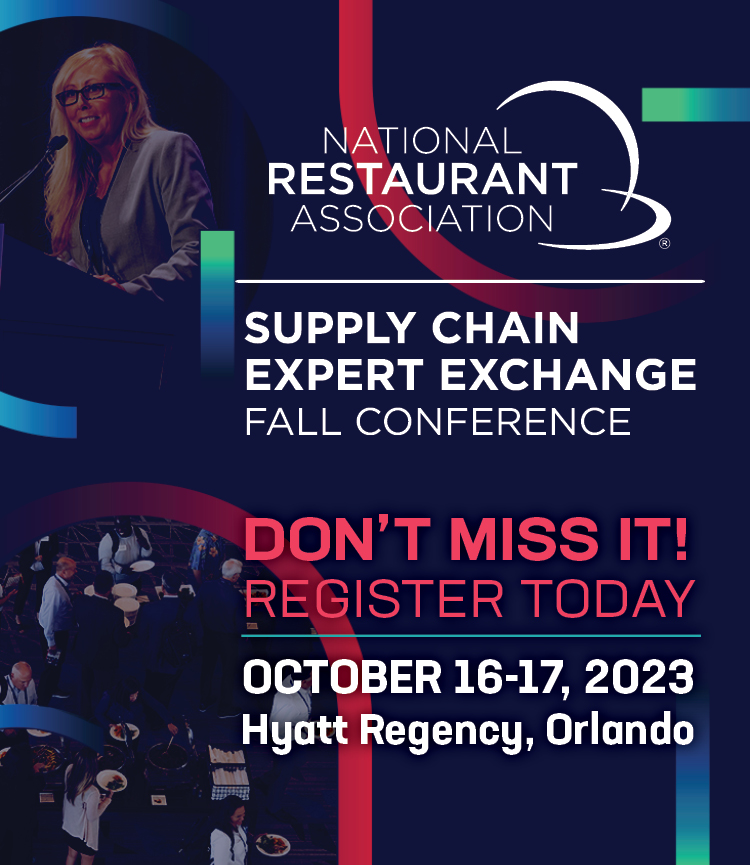 Fall 2023 Supply Chain Expert Exchange Conference
Join us October 16-17, 2023, in Orlando, Florida for the National Restaurant Association Supply Chain Expert Exchange Fall Conference.
Learn from industry leaders, share your own experience, and grow your network so you'll be ready to face the industry's most pressing challenges.
We're excited to once again be hosting the event prior to the Market Vision Fall conference giving the restaurant supply chain community the opportunity to network with and learn from leaders in the foodservice industry. 
Don't miss the ONLY event created by people that run restaurant supply chains.
Monday Oct 16
3:00 PM Registration desk opens
6:15 PM – Welcome Networking Reception and dinner at the beautiful Rosen College of Hospitality Management at the University of Central Florida. Transportation will be provided.
Tuesday October 17:
8:00 AM – Breakfast
9:00 AM – Opening Remarks
9:15 AM - From Data to Action: Understanding Key Economic Indicators with Dhamu Thamodaran, Advisor, National Restaurant Association Supply Chain Expert Exchange
In today's highly competitive and rapidly changing food service industry, understanding and effectively managing economic indicators is essential for optimizing the supply chain. In this conference session, Dr. Dhamu Thamodaran will shed light on the crucial economic indicators that foodservice professionals must grasp, monitor, and interpret to make informed decisions, mitigate risks, and drive efficiency throughout their supply chain.
10:05 AM - Navigating Difficult Conversations: Having difficult conversations can be challenging, but with the right mindset and effective communication strategies, we can transform them into valuable opportunities for growth, understanding, and building stronger relationships. This panel, brought to you by the Women's Foodservice Forum (WFF), will offer insights from senior leaders sharing their personal experiences and lessons learned that have helped them to navigate challenging conversations, cultivate candor and move forward with mutual understanding and trust, both personally and professionally.
10:55 AM - Networking Break
11:25 AM - Solutions Focused Networking: Get ready to supercharge your networking game while problem solving with peers during the first of two separate Roundtable Networking sessions. We've designed this time for you to share ideas and solutions to common problems in the foodservice supply chain industry while expanding your professional network. In each session, you can join a targeted discussion from the topic list below to get fresh perspectives on industry-specific challenges. These conversations will be facilitated so that everyone has a chance to share and take something valuable away.
12:05 PM - Lunch
1:00 PM - Shift Your Brilliance – Act Like an Employee and Think a CEO (Creative Engagement Optimist) With Simon Bailey. Shift Your Brilliance invites every team member to be accountable for their performance, lead without a title, embrace a fluid career vision rather working in-person, remotely, or as a hybrid. Be a transformational thinker by doing common work in an uncommon way. Based on his bestseller – Shift Your Brilliance – Harness the Power of You, Inc.  Every attendee will receive a complimentary copy of Simon's book Shift Your Brilliance.
1:50 PM - A Conversation with Kevin Hourican, Sysco CEO: Kevin will sit down with Charlie Lousignont and share his professional journey to lead the world's largest foodservice distributor which began with his graduate degree in Supply Chain Management. He will talk about his own professional development and offer his perspective on keys to success. Kevin will discuss best practices from his experience in the retail sector and how that can be applied to Foodservice.  He will also share insight on how suppliers and buyers partnerships have changed since the pandemic and how technology is reshaping our industry.
2:40 - Afternoon Session: More Solutions Focused Networking: The learning and networking continue! In our second Roundtable Networking session, we're revisiting the same engaging topics from the morning session. This gives you the opportunity to dive deeper into focused discussions and gain fresh perspectives on industry-specific challenges. Table guides will ensure lively and interactive conversations, making sure everyone has a chance to share and take away actionable solutions.
3:15 PM - Networking Break
3:45 PM - Negotiations - How to Increase the Value of your Deals with Brian Buck, Chief Executive Officer, Scotwork
Upskill your negotiators with this engaging session presented by Brian Buck, the CEO of Scotwork®, the world's number one independent negotiation consultancy. This interactive program will delve into the art of negotiating and drive home the five things you should be doing to increase the value of your deals. You will gain valuable insights, practical tips, and proven strategies to enhance your negotiation prowess in both personal and professional settings. Don't miss this opportunity to refine your skills and empower yourself as a proficient negotiator.
4:50 PM - Conference adjourns